Course Library > Health & Safety Courses > Asbestos Hazard Awareness
Course overview: In this course, you will learn about the many negative health effects of the toxic material asbestos and how to minimize your chances of exposure to it. First, you'll discover which conditions and activities put you at the greatest risk of exposure to asbestos, as well as the serious illnesses asbestos can cause after exposure. Next, we will discuss regulations regarding asbestos, including worker exposure limits set by the Occupational Safety and Health Administration (OSHA). Finally, you will learn what to do when you encounter asbestos and what your rights and responsibilities regarding this hazardous substance.
After taking this course, workers will know how to identify and respond to asbestos to minimize their chances of exposure and the negative health consequences.
Learning Objectives
Explain what asbestos is
Give examples of how asbestos might appear at work
Identify health effects of asbestos exposure
Identify ways to prevent exposure to asbestos on the job
Explain what to do if they are exposed to asbestos
Regulations
UNITED STATES DEPARTMENT OF LABOR." Occupational Safety and Health Administration, www.osha.gov/SLTC/asbestos/hazards.html . Accessed 2 Oct. 2017.
"UNITED STATES DEPARTMENT OF LABOR." Occupational Safety and Health Administration, www.osha.gov/Publications/OSHA3507.pdf . Accessed 2 Oct. 2017.
OSHA 29 CFR 1910.1001 - Asbestos Standard for General Industry
OSHA 29 CFR 1926.1101 - Asbestos Standard for the Construction Industry
Key Features
Audio Narration,Inline Activities,Video,Post-Assessment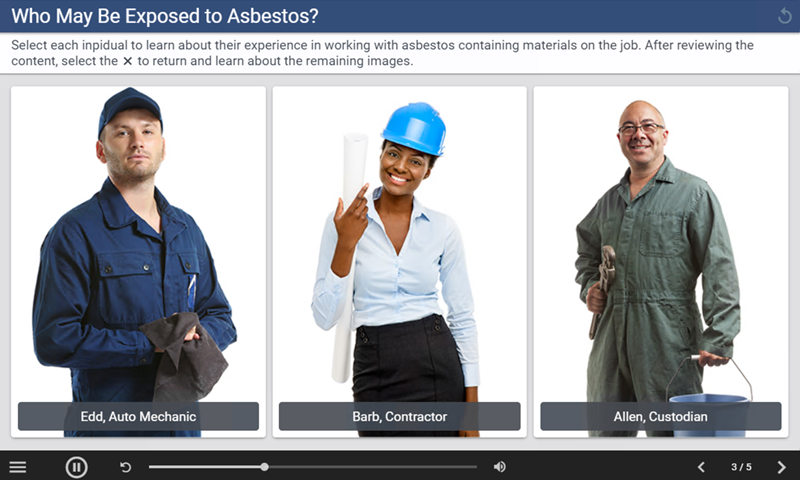 ---
Interested in offering this course to your employees? Let's Talk