Course Library > Workplace Safety Courses > Confined Spaces
Course overview: Prepare to work safely in confined spaces. This OSHA training course for general industry employees covers the life-threatening dangers of confined spaces and key safety requirements. In the course, we'll outline the characteristics of a confined space, associated hazards, and the difference between permit-required and non-permit required classifications. You'll also learn about the safety program your employer is obligated to develop and implement to protect those who enter, supervise, and attend the entry of a permit-required confined space. Finally, we will discuss the individual responsibilities of confined space personnel.
This course is presented with clear instruction and engaging exercises designed drive home essential confined space safety principles. After completing the course, you will have a clear picture of the risks and precautions associated with confined space work.
Learning Objectives
Identify characteristics and examples of a confined space.
Identify the potential hazards of a confined space
Recognize the difference between a permit required confined space and a non-permit required confined space, as well as the criteria for reclassifying a confined space
Identify the role of a worker who is not authorized to enter a confined space in the event of an emergency
Regulations
29 CFR 1910.146 Subpart J - General Environmental Controls - 1910.146, Permit required confined spaces
29 CFR 1926.1200 Subpart AA - Confined Spaces in Construction - 1926.1200, Reserved
Language
English, Spanish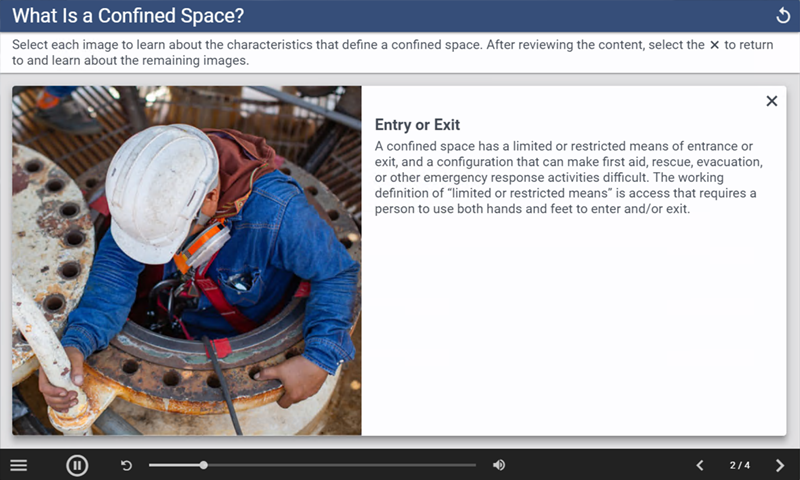 ---
Interested in offering this course to your employees? Let's Talk