Course Library > Environmental Management > Hazardous Waste Management
Course overview: Is your company handling its hazardous waste correctly? This training course covers hazardous waste management guidelines for the safe and lawful storage and disposal of hazardous materials. To begin the course, we'll define important hazardous waste concepts and classifications, as well as the associated regulatory standards. Next, we'll outline the essentials of hazardous waste storage, transportation, disposal, and inspection program requirements. You'll also learn about emergency preparedness, employee training, and recordkeeping requirements, along with methods for minimizing hazardous waste generation. This course is presented with clear instruction, visuals, and engaging learning exercises. By the end of the course, you will be prepared to follow and implement proper hazardous waste management practices at your organization.
Learning Objectives
Define hazardous waste, explain the importance of managing it properly, and list the categories of hazardous waste generators.
List some actions industrial facilities use to manage hazardous waste and explain how you can assist your company with its hazardous waste management efforts.
Describe how to handle common types of hazardous waste.
Describe how you, and other individuals with various roles and responsibilities, should respond to an unintended release of hazardous waste.
Regulations
Resource Conservation and Recovery Act (RCRA), 40 CFR part 260-265
40 CFR 261 Subpart D
40 CFR 261 Subpart C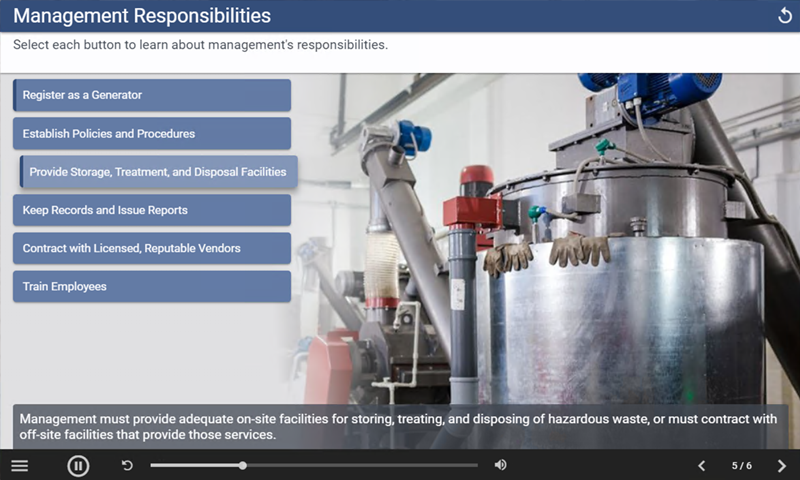 ---
Interested in offering this course to your employees? Let's Talk