Course Library > Workplace Safety Courses > Industrial Ergonomics
Course overview: Discover the steps you can take to reduce workplace injuries and illnesses caused by poor ergonomics. This course includes important information from OSHA to help promote a healthier work environment. The goal of ergonomics is to protect workers by eliminating the factors that cause Cumulative Trauma Disorders (CTDs). In this course, you'll learn about the common types of CTDs, the workplace tasks that contribute to them, and what to do if you start experiencing symptoms. You'll also discover the 10 Principles of Ergonomics and how to "fit the workplace to the worker" using long-term methods.
By the end of this course, you will know how to improve the ergonomics of your work environment, creating a more comfortable, productive workspace for yourself and your coworkers.
Learning Objectives
Recall the underlying principle of ergonomics in the workplace and core risk factors
Identify causes of CTDs
Recognize common types of cumulative trauma disorders
Match warning signs and symptoms with solutions and actions
Identify ergonomic principles
Recognize elements of an effective ergonomic health and safety program
Regulations
OSH Act of 1970, General Duty Clause, Section 5 (a)(1)(2)
Language
English, Spanish
Key Features
Instant Safety Video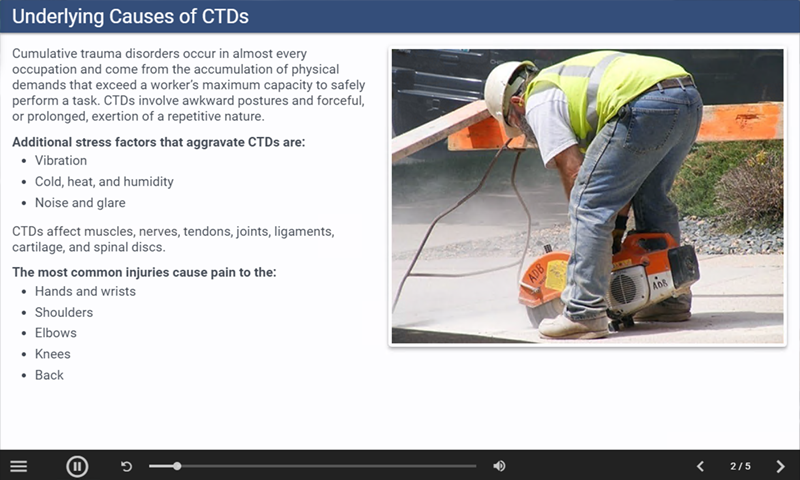 ---
Interested in offering this course to your employees? Let's Talk