How to Conduct Business during a Pandemic - We're back! Due to the popularity of the first session and because we reached full registration, we're coming back to do it all over again! There will be a few tweaks as we move to more Q&A's for the expert panelists.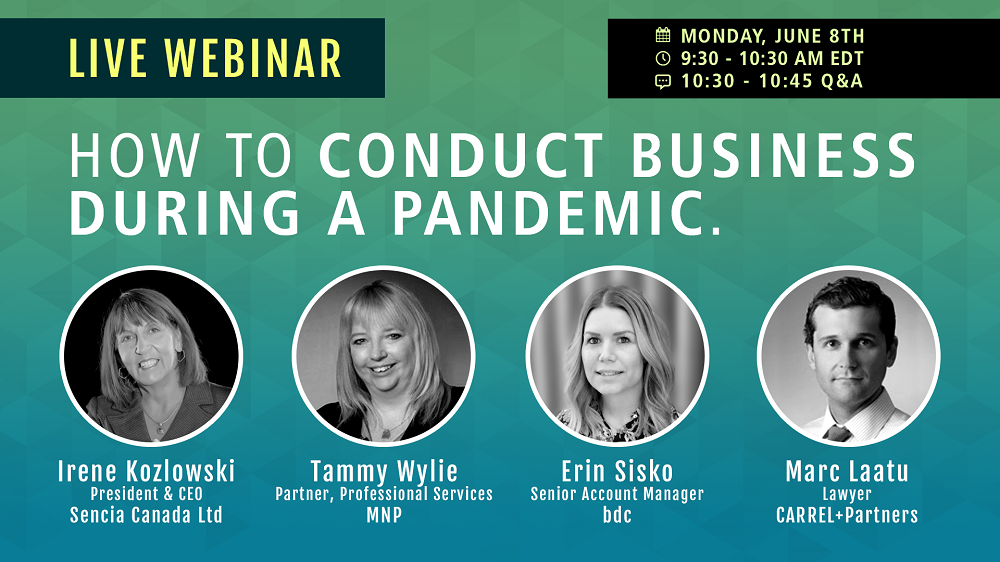 Without notice, many entrepreneurs had to quickly change their direction due to the COVID-19 pandemic. They simply had no choice. They were forced to abruptly close their businesses requiring many to lay off staff, pivot their business (if possible), apply for government programs (if eligible) and look at other financial programs to help carry them through this chaos. Now these same entrepreneurs are told they can reopen with restrictions while health officials are telling them that it's almost certain a second wave of COVID-19 is coming. Irene Kozlowski, an entrepreneur for 19 years, will be the moderator of this session. She will pose questions to an expert panel to try to understand how best to move through this time. What should we have done and what should we be doing to prepare for our future? The panelists consist of Marc Laatu, Lawyer with Carrel & Partners, Erin Sisko, Sr. Account Manager with BDC, and Tammy Wylie, Partner with MNP LLP Chartered Accountants. It should be an engaging hour. We hope you can join us!
This is a free, online event open to everyone. Please register in advance by clicking the button below.
| | |
| --- | --- |
| Date: | Monday, June 8, 2020 |
| Webinar: | 9:30-10:30 AM EDT |
| Q&A | 10:30-10:45 AM EDT |
Meet the Panelists
Irene Kozlowski, Co-Founder of Sencia Canada, has weathered many storms throughout her 19 years in business. She and business partner Joe Quaresima started the business during one of the most unstable times for technology - the dot.com bust. Three months after opening, 9-11 left North America in shock causing instability. In 2008, the recession hit businesses hard leaving them with no other option but to close their doors. Now we're in the midst of a pandemic that left us without warning. One week, businesses were full-swing and the next week, they were ordered closed. We have been told we can re-open with the message that there could be a second wave. So, how do entrepreneurs pivot? How should they prepare for all of this uncertainty? The panelists will help answer questions about employment law, accounting, and financial programs to help us try sort this out.

---

Tammy is a Partner with MNP, leading the Professional Services Practice in the Northern Ontario Region and part of the MNP National Professionals Best Practices Team. Tammy is a trusted advisor and assists clients succeed in today's complex and competitive environments. Tammy's experience includes practice development and management of health care groups, and general business consulting for professionals. In addition, she provides corporate structuring plans, advises on incorporations and personal and corporate tax planning, delivers cash management services and assists clients looking to transition from their practice.

---





Erin is a life long proud resident of Thunder Bay Ontario and a Lakehead University graduate majoring in Business in 2010. In that same year she also graduated from Leadership Thunder Bay, a hands on interactive learning journey that impacted her greatly and set her on a path to leadership in her own life. As a past board director of Leadership Thunder Bay and Big Brothers Big Sisters Thunder Bay as well as a current board director of the Thunder Bay Chamber of Commerce, Erin's passions are shared between business, economic and business development and non-profit organizations that are close to her heart. After exploring several different areas of business following graduation, Erin was fortunate enough to become part of the Thunder Bay BDC team as an Account Manager to support the growth of local entrepreneurs. Specializing in financial management, business transition and advisory services, Erin has been an integral part in the negotiation and successful financing transactions for growth and expansion related projects.

---

Shortly after his call to the Bar of Ontario in June 2013, Marc returned to his hometown of Thunder Bay to join CARREL+Partners LLP as an associate. Marc regularly advises clients in a number of areas throughout the various stages of a business' lifecycle, including matters such as incorporation, business acquisitions or sales (shares and assets), financing, commercial real estate transactions, and dissolution. Marc has also drafted and negotiated numerous business agreements for a wide range of clients, including sole proprietors, landlords, partnerships, shareholders, directors, officers, corporations, condominium corporations, and trustees.

Prior to joining CARREL+Partners LLP as an associate, Marc was a summer student with the firm in 2010. Marc completed his articles at McMillan LLP where he conducted research and gained valuable transaction experience in a number of corporate & commercial, capital markets, banking & financial services and employment matters.

---
Webinar: How to Conduct Business during a Pandemic
Monday, June 8 - 9:30 AM EDT