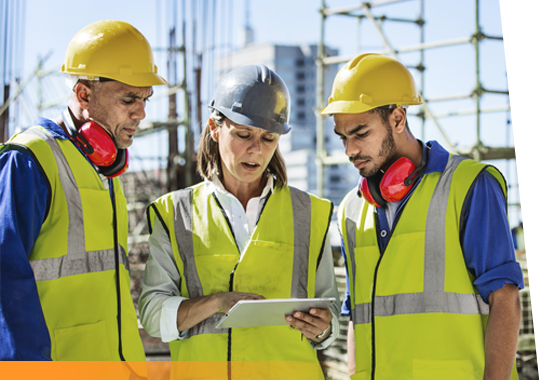 Learning Solutions for Construction & Mining Companies
The Informetica learning management system (LMS/LCMS) helps organizations in the construction and mining industries take responsible actions to develop a culture dedicated to safety by ensuring that all policies, procedures, and consistent training is provided to everyone in the company. By incorporating policies concerning accidents, injuries, and near-misses into the Informetica system, companies in these industries demonstrate that their safety and health performance is a top priority. Construction and mining have the challenge of dealing with hazardous environments and training workers for specific equipment and safety practices, resulting in a need for personnel to comply with workplace safety practices. Informetica enables our clients to meet their top priority of safety, a value that is fundamental to meeting the industry target of achieving zero lost-time incidents.
Ensure Compliance with a Training Solution for the Mining Industry
Key Features and Benefits of Informetica LMS for Construction & Mining Companies
Ensure that workers are compliant with hazards and safety procedures before conducting a dangerous task
Develop your own database of safety documentation, assessments, and training to provide measurable results
Empower workers to exceptional safety performance and motivate subcontractors to work safely and adopt your company's commitment to safety and health
Provide consistent and thorough employee orientation materials
Create pre-job safety instructions and planned safety content
Measure and document unsafe practices
Provide safety inspections and checklists
Analyze accident causes, determine areas that need to be addressed, and establish actions to prevent recurrence
Reduce operating costs and increase productivity because less time is lost to accidents
Reduce the expense of lost time injuries through compliancy and certification training
Capture valuable information from a worker before retirement and provide best practices for succession planning
Access critical information for all workers, supervisors, safety committees, safety trainers, and construction or mine managers
Develop procedures to ensure that workers and supervisors understand safety requirements
Recruit, train, develop, and retain a highly qualified workforce
Big or small? We have the perfect solution for you.
See how Informetica can provide you with a platform to create, deliver and track employee performance - all from a powerful and scalable cloud-based solution. Contact an Informetica rep today!